Covina Verde offers you the opportunity to buy into Ortigas Center's most exciting places with all its landmarks just minutes reach.
Buying a home at Covina is an investment in a new way of living, offering you the ultimate in city residence. Enjoy life where you have more time to relax in the comfort of your new home.
If you only need one reason to invest in your own townhouse in Covina Verde, it should be the location. This townhouse development brings the opportunity to own your dream home without being situated in a secluded area that would require lots of travel to get to. The developers at Pathland Development Corp. understand the needs of basic Filipino families. They know that location is going to be a critical factor in most home buyers' decision in choosing which home to invest in.
Thus, Pathland Development Corp. has decided to build this housing project in Pasig City, Metro Manila. The fact that it is located in Metro Manila makes it highly convenient and attractive for potential home buyers. It is the ultimate city residence as you can get to any point in Metro Manila with ease. Pasig is also one of the top urban areas in Metro Manila, which offers plenty of employment and entertainment opportunities for the residents of this townhouse.
Covina Verde is located along Jenny's Avenue, which is connected to Ortigas Extension. This means that you can easily access major roads in Metro Manila such as Ortigas Avenue, F. Legaspi Street, C. Raymundo, and C-5.
Speaking of accessibility to key landmarks and establishments, there are several businesses that are within a few minutes away. For business professionals who choose to live in this townhouse development, this means that your employment could be within a few minutes away so you can save time on your daily commute to work. This will allow you to spend more time at home with your family rather than spending it on your daily commute to and from work (or school). With that said, some of the notable businesses or offices located in Pasig City include Meralco, Teleperformance, San Miguel Corporation, Philippine Stock Exchange, and other major commercial banks.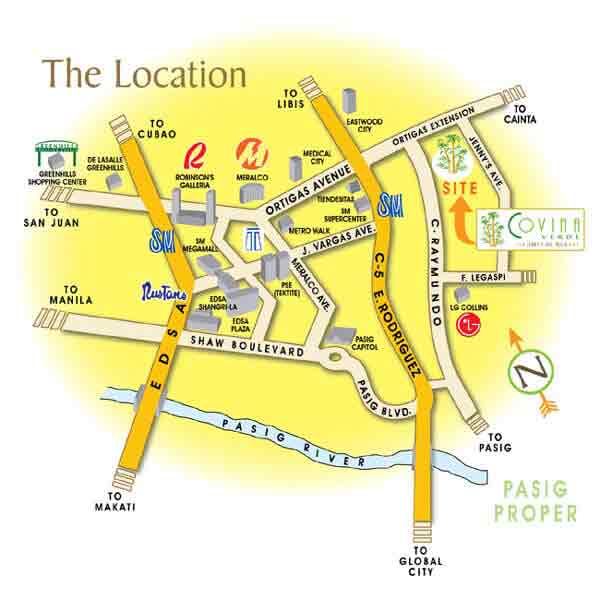 Covina Verde is also surrounded with many great schools. Hence, it is convenient for students since you can eliminate the hassle of long travel or commute to your school. This is another plus side for families to invest in a home at this townhouse community. Some of the notable schools near Covina Verde are La Salle Greenhills, University of Asia and the Pacific, Pasig Science High School, and St. Paul's College.
For your shopping needs, Pasig has a variety of options available for you to choose from. Therefore, it is highly convenient when you need to do the grocery or want to do some shopping. Shopping centers and malls such as Robinson's Galleria, The Podium, Shangri-La Plaza, Tiendesitas, and Home Depot are within a few minutes away. For dining and entertainment, you have a wide range of choices too. You can check out Eastwood City Libis, El Pueblo, Music Museum, PYRO Resto Bar, Chicago KTV Bar, Luv 2 Laff Comedy Bar and Restaurant, to name a few. For your other basic needs, Covina Verde is within close proximity to New Medical City and Pasig City General Hospital. The famous landmark EDSA Shrine Monument is also located nearby.